The Montana swine extension program is flexible and demand driven and attempts to respond to specific needs within local areas. The swine industry is currently undergoing dramatic changes in production technologies, business structures, product quality, marketing strategies, and awareness of environmental and other societal concerns.

A goal of the swine extension program is to provide programs, knowledge, and assistance to help producers understand and adapt to these changes and issues. A second goal is to develop the concept that a progressive attitude coupled with niche marketing will help smaller producers retain a successful and important role in the swine industry. A third goal is to provide youth and the public, an understanding of modern swine production as well as with knowledge of the characteristics of high quality pork products.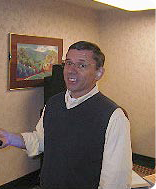 We would like to thank Dr. Wayne Gipp for providing 29 years of service to the state of Montana and the swine industry.
Need more information?
Your local County Extension Agents can be helpful in directing you to sources of swine information.
Additionally, two excellent internet based resources for a wide variety of swine information are the Pork Information Gateway and National Pork Board, which you may access by clicking on their logos below.
NOTE: For questions related to animal waste, water and air quality, regulations, swine housing and agrosecurity, please contact Tommy Bass.
Symbol of Excellence (SOE) Program
We will continue to support the SOE Carcass Program, which will be overseen by Rose Malisani, the Cascade County Extension Agent.
Use the following form to Ask An Expert