Animal and Range Sciences Extension Service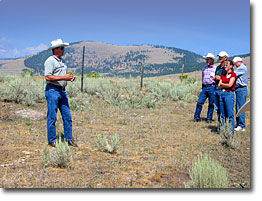 Welcome to the Animal & Range Sciences Extension Service. We are dedicated to improving the competitiveness of Montana's agricultural industry and the lives of people working and playing in our communities. Our activities involve education, certification, conservation, and research in the fields of cattle, entomology, equine, forage, natural resources, range science, sheep, swine, and wildlife. We have hundreds of extension publications and online references providing valuable information for improving and conserving Montana's resources. We hope you enjoy the information on this website. If you have any questions, please let us know.
What's New with Us...
MSU Extension's Equine Conference - March 5, 2011 - GranTree Inn - Bozeman
Pasture and Grazing Management in the Northwest - new book available from University of Idaho
List of Hay and Pasture Available
"Manage Your Land for Wildlife" book now available
Experimental Vaccine Reduces E. coli in Cows and Calves

Lambs Learn to Eat Dalmatian Toadflax by Watching Mom at Pasture Potluck